Just less than six months away, the episode or episodes that will mark 50 years of the UK's favourite science fiction show is marked in furious debate, lots of speculation and an unending amount of excitement from fans young and old alike.
Due to an administrative blunder by BBC America, viewers in the USA who pre-ordered their DVDs had them early so were able to see this season's finale The Name of the Doctor before it aired on either side of the Atlantic. As a reward for not revealing any spoilers, the crew released this "Behind the Scenes" footage.
What we know:
It will feature past Doctor David Tennant and present Doctor Matt Smith (see video above)
It will feature past companion Rose Tyler played by Billie Piper. Jenna Louise Coleman will also star as Clara Oswald.
Joanna Page will play Queen Elizabeth I
Christopher Ecclestone was asked to appear but refused.
It will feature classic enemies, The Zygons and probably both Daleks and Cybermen.
It will not be the only thing on television marking 50 years.
Jemma Redgrave will reprise her role of Kate Stewart, daughter of the Brigadier.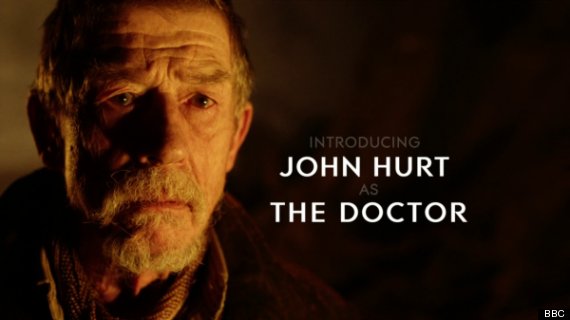 John Hurt will play The Doctor. Hurt revealed he would play a forgotten ninth incarnation. If true (and The Sun claims that Hurt said this himself) then it would seem that Ecclestone was tenth, Tennant was 11th. Intriguingly, for those with a memory for these things it would appear that Matt Smith ought to be the final incarnation. Why? Any Timelord can regenerate twelve times only, making thirteen incarnations. Yet, when Tom Baker regenerated into Peter Davidson, he used his final incarnation to aid his regeneration knowing how severe his injuries were going to be. This is an issue of some debate due to a comment The Doctor made in an episode of The Sarah Jane Adventures about having something like 500 regenerations. Time will tell when Matt Smith decides to give up the bow tie for good. This ninth incarnation will have been forgotten/rejected by the succeeding incarnations because of his role in the Time War.
There is an alternate theory. It is interesting but the author admits that it is only educated guesswork on his part. It is also flawed in light of Hurt's admission of his role in the episode.
My thoughts
Despite appearing in The Sun and despite continued speculation about John Hurt's role, I would guess that this is pretty definite that he will be the ninth Doctor who was expunged from the memory of those who followed. Only GI's interference in the actions of every past incarnation permitted this Doctor to return to Smith's memory. This would also explain why he has referred to himself as the 11th incarnation (as does the idea of "he is me but he wasn't The Doctor because he betrayed the name.")
I would hope that he turns in quite a tragic rather than a villainous performance. I would expect and hope a degree of sympathy over a hard decision. Anything too sadistic, too malevolent would be a step too far. He would have to be a reluctant perpetrator of a genocide as far as I am concerned.
I am really looking forward to seeing Smith and Tennant work together. Tennant was great but Smith is more like the character of the older series. I'm sure they will be great together.
I would love to know your thoughts on this.